MOTORCYCLING in VIETNAM TRAVEL GUIDE and JOURNEY MAP
See the links below the map which will take you to the appropriate sections.
Motorcycling in Vietnam is simply amazing and thrilling. On this page we put together a travel guide for all the bikers who are keen to motorcycle in Vietnam. We bought our Honda Bonus with Wolf Pack sticker, including luggage rack, helmets and a Lonely Planet for $350 in Ho Chi Minh City after only one day of motorcycle hunting. We definitely saw the worst ones – literally everything was broken and some parts  were missing. However some great offers became available from Craigslist and we made our purchase. Another easy way to get a motorbike is to wait in front of a backpackers hostel and just wait for arriving tourists. Bikes are between 200 and 400$ and are going up and down the country until they disintegrate. Mending and fixing your motorbike throughout the journey is part of the game and breakdowns will happen. As over 90% of the countries inhabitants are commuting on two wheels you will find inexpensive workshops literally everywhere.
Which motorbike? The most common and cheapest motorbike is the famous Honda Win 110cc (Chinese replica). They are available for 250$. Our Honda Bonus (its a Chinese copy of something and they had Honda stickers on it) was a bit more expensive, but had 125cc and felt a bit more like an actual motorbike. There are also more modern scooters available with automatic drive if you prefer. I have heard of old Minsk motorbikes which where very common in earlier times. Whatever you buy…
Get the paperwork for the motorbike!!! It is important to have the owners document as if the police stop you, you will need it. And also it is much easier to sell your motorbike at the end of your tour.
Driving license or not? It is possible to get a Vietnamese license. The easiest way is to bring a international A1 license and you can exchange it to a Vietnamese. For those, who have no A1 or equivalent license, can obtain one. Click Vietnamonline for detailed information. I personally can not tell you if you should get one or not, its up to you. We were never asked for insurance documents or license. We met lots of other motorbikers and none of them were asked either. The Vietnamese police do road-blocks, but we were always waved through.
Do I need experience on motorbikes? It is recommendable. The traffic is hectic and seems to follow no rules. However, I have seen people learning motorbiking in Vietnam on the day they bought their motorbike, and they managed it. I have been driving motorbikes for 18 years and I can tell that it is not easy to drive there. Nobody looks at other road users and generally the bigger vehicle wins. Hence, drive slow and relaxed, get out of the cities and it's safe. On motorways, or highways, be aware of people driving in the wrong direction. They are to lazy to drive on the right side of the road. As I said before, they hardly follow rules, drive slow!
GET A HELMET!!! With visor. Not just to protect you from hitting your head, also to protect you from the rain and sun. A dust mask is also a very good companion, it will protect from dust, sun, insects, amongst other things.
Road conditions are generally good. You will find mostly tarmac, probably 5% gravel roads. Here and there potholes will appear, and sometimes roadworks. Twice the road went straight into a lake, we had to take a boat, this happened in the Mekong Delta.
A Luggage Rack on the bike is very important. Try to get a bike with rack already fitted.
Here was a Youtube video. but because of the DSGVO we can't display 🙁
Before starting our journey we had to assemble motorcycle gear like rain covers, straps, maps and minor tools. As it is the rainy season throughout the whole country of Vietnam, the protective rain gear for us, and our luggage was very important. We bought two rice sacks to put our luggage in, it keeps the luggage dry, clean and rice sacks are very strong and don't rip. We can recommend a Vietnam map which can be purchased in bigger bookstores at big cities. Basically it was the only available (proper) map of Vietnam. For comfort, you should get your seat reupolstered, and you will appreciate it, this will cost around $20. We acquired a "lady cushion" from another traveller which was an amazing asset for the passenger. We planned to go from Ho Chi Minh (Saigon) to the Mekong Delta, back up north to the central highlands  Đắk Lắk, Pleiku, east to Hoi An, further up north to the northern highlands like Sap Pa and finally Ha Noi, and had about 7 weeks to complete the trip.
I have split the travel map in two sections to make it easier to read. Below the maps are the appropriate links to the journeys intersections. I hope you enjoy the motorbike tour guide and our personal experiences.

FIRST HALF OF JOURNEY MAP
Motorcycling in Vietnam Travel Guide – click on the links below to have detailed information about the intersections on the map.
SECOND HALF OF JOURNEY MAP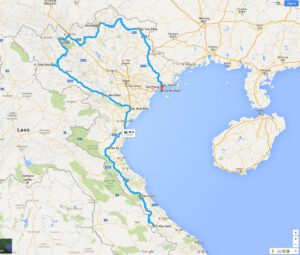 BECAUSE OF THE LENGTH OF THIS PAGE I SPLITTED IT INTO TWO PAGES. Motorbiking in Vietnam part2
Motorcycling in Vietnam, Ho Chi Minh to  Mekong Delta (Vinh Long via My Tho, Ba Dong Beach, Tra Vin).
Everything ready – Mekong Delta here we come!!! The first challenge was how we are going to get out of HCMC because of heavy and chaotic traffic. Managing fine, we had our next challenge taking the very busy A1 down to My Tho, it is not difficult but just very stressful in the beginning until you get used to Vietnamese NO RULE traffic. Luckily the traffic goes generally very slow – top speed is mostly 60kmh and average speed 40kmh. My Tho (first stop at the Mekong Delta) was very close and we made it in about 3-4h. My Tho is not very spectacular and was only a one night stop for us.
We did have our first contact with a mechanic to change the spark plug – he didn't charge us anything, so we gave him a couple of cigarettes. Mechanics in Vietnam are very inexpensive and there is no need to buy many tools, we got our bike fixed here and there for almost nothing. But more mechanic stories later.
The next morning we left My Tho and headed deeper into the Mekong Delta. We followed the road QL60 through Ben Tre and towards Tra Vinh. The business of the AH1 road eases out and we could relax and easily cruise around. On the way we saw mostly palm trees, banana trees and some locals going about their business.
We followed the Road QL53 which was big and in good condition. After a good 50k the road turned into a dirt track and we stopped to ask locals if we were on the right way. They just told us to go on… we did and after another 3k of dirt track we ended up at a river with a coffee stall. We again asked for the way to Tra Vinh and they pointed at the river. The confusion was that our map showed definitely a bridge with a big road – which wasn't build yet obviously. So we did as the locals did, sat down and had a cold drink (usually we drank Kong Do, some sort of ice tea). After a while a little wooden boat came and brought us to the other side. We were very pleased that they took the motorbikes on and off the boat for us, as this was a difficult task on the rickety wooden piers.  This seems to be a normal way to travel in this part of the country and so on the other side of the river, everyone just continued as normal. The rest of the journey for this day was pretty straight forward, but we started to notice a knocking and ticking noise coming from the engine. We finally got in Tra Vinh a simple, nice and clean hotel for around 8 dollar per night.
The next day we were following Lonely Planet's advice and go to the "yellow sanded" Ba Dong Beach where we wanted to stay for some time.  Unfortunately it turned out that the beach was just concrete blocks and the Hotels were closed and derelict . The pictures say everything.  Hence after half an hour and some close to inedible tasting liver soup, we left quickly, and headed towards Vin Long.
Arriving in Vinh Long we found a nice little hotel and some awesome street food – rice with BBQ pork. There we met some nice locals which helped us to find a workshop to fix our motorbike. Our cam chain and big end bearing were getting worse and worse. But no worries – we are in Vietnam and workshop prices are really cheap. So we went with our new Vietnamese friends to a mechanic and got a new clutch, new big end bearing and other fixes for $50. Later in the journey we realized that this was actually expensive. Also our carburetor was making problems and the speedometer wasn't working at all. The next day all was fixed and we were ready to go on. At this point we met Chris and Irene, another couple with a motorbike who planned the same tour to the north. They also came from Saigon with the most popular Honda Win (their blog) and we decided to travel together for a while.
The Wolf Pack becomes bigger.
Motorcycling in Vietnam, Mekong Delta to Da Lat – Central Highlands
Vinh Long – Da Lat
We left  Vinh Long early at 7ish to have time enough to be able see the Floating market at Cai Be and then bypass Ho Chi Minh City. The Floating market at Cai Be was not as we expected a big and spectacular floating market like described in the guide book. We didn't see many boats or lots of trading going on. Probably there is better times of the day or year to visit.
Our goal this day was to get to Vinh An – a little unknown town north from HCMC. There is little information available on the internet or any travel guide about Vinh An, so we just hoped there would be somewhere we could sleep.
The road AH1 that we had to take from Vinh Long was as busy and maddening as usual. Lorries, buses, cars and millions of scooters interlaced with smog and dust at 35 degrees C. We made good tracks up to HCMC as it is just straight and we knew the way.  After HCMC we found our way to Bien Hoa which was the worst bit of AH1 – squashed between smoking lorries, ignorant of the scooters and motorbikes on the road. We did get almost squashed between a bus and a lorry until I banged the lorry drivers door to signal we were there.
In Bien Hoa we needed lunch and a mechanic to replace a lost screw for the chain guard on our friend's Honda Win.  The moment we stopped, a heavy rain shower flooded the streets  and we watched with pleasure whilst having our Pho Bo (typical Vietnamese noodle soup with Bo = beef) . Rain stopped, stomachs full and the bike fixed we were back on the road again.
Finally we got off the AH1 and took a nice little back road along the river to Vinh An.
Vinh An in Dong Nai region sits beside a massive water reservoir where you can watch beautiful sunsets and maybe swim if you dare, otherwise is not much else to do there, literally nothing.
When we arrived, we had the usual drill of looking for a hotel, however this was quite a challenge because there wasn't any visible hotels in the town and no one spoke English. We then learned the word for Hotel and we asked for directions. Unfortunately they wouldn't understand us, as Vietnamese is a phonetic language and we were unable to pronounce khách sạn properly. The funniest answer was at the mattress shop. We indicated that we are looking for somewhere to sleep – they didn't understand and showed us their mattresses.
So, continuing down the main road we found a 24 hour Hotel run by a really nice family. They spoke no English and our Vietnamese was only minimal at this point, but all good! We had a place to stay for just $3 each. Later we did realize that this was a hotel where they also (or maybe mainly) rent out rooms by the hour, and suddenly the mirrors in the bedrooms made much more sense…
After a night of card games and beer we got up early in the morning and started the journey to Da Lat. We were really excited because the road QL20 would bring us in the central highlands where the streets become interesting and winding. QL20 is still a busy highway but much better than AH1. So we drove on, some coffee here and some fixing there as usual, no drastic occurrences. The road led us more and more into the mountains which was a welcome change. With increasing altitude the temperature fell which at first we really appreciated. By the time we arrived in Da Lat it was dark, windy, rainy and cold. Our carburetor started having problems again, so a bit frustrating, but although it was long, it was an amazing beautiful ride that day.
It took us  2 h to find a double room in Da Lat which was nice enough and only $8 – it was a bit of a pain after an 8h ride. But – after a good rest we were grand.
Da Lat it self is a nice little French/Vietnamese looking mountain town with several sights and well visited by tourists – glad we were kind of off-season there. We enjoyed our stay very much and visited the Crazy House and  a volcanic mountain called Langbiang. Da Lat is very nice and the roads around it are a paradise for motor bikers.
Info on Da Lat click here.
What I enjoyed the most was to fix the bike myself. After several so-called mechanics and no success I convinced a carburetor specialist to borrow his tools so that I could fix it myself. He wanted to sell me a whole new carb but it was a fairly simple job. Finally I fixed the bike and it was all running good again. Chris and Irene had to change their chain and sprockets in the meantime. The amount of mechanics available in Vietnam is really amazing!
Motorbiking in Vietnam Da Lat to Nha Trang
Motorcycling in Vietnam.
This day of motorcycling was truly a highlight of our tour through Vietnam. Da Lat and Nha Trang is connected by the very beautiful road DT732 which leads over stunning mountains and winds down to almost sea level. The distance to cover was only 140 Km, hence we had time to have a extensive breakfast and Vietnamese traditional coffee. Leaving around 10am we headed north to find the mentioned road which we found easily. Following it, the scenery became more and more beautiful and breathtaking every kilo-meter. We believed at the time that this would be the most beautiful leg of Motorbiking in Vietnam, but it was just the first highlight. On the way you will come through vast forests and ride along mountain ridges until you drop down from literally 1000m to almost sea level. This is the best part! About 50Km before Nha Trang the road curves down and down. You'll see waterfalls and the vegetation becomes more jungle like as the temperature rises dramatically.
Arriving at Nha Trang we found a really nice $8 double room (with balcony) at the Forget Me Not Hotel. Again – off season rates. I am happy we were there off season as I'm not a fan of very touristy places and Nha Trang certainly is. However it is still a good place to hang out for a while and do some scuba diving and chilling out on the beach. After a lot of motor biking and on the road every day, a beach is a welcome change.
We booked at Sailing club Divers two fun dives and set off next morning ….. blub blub blub…
Motorcycling in Vietnam Nha Trang to Buon Ma Thuot
The road QL26 from Nha Trang to Buon Ma Thuot via Ninh Hoa is straight forward and doesn't climb higher then 600m. Dramatic start of the day as before leaving we had to fix the clutch wire on the Honda Win – we were waiting for the day without consulting a mechanic. The scenery is a typical Vietnamese farmland,  banana trees and very hot and humid. The road QL26 itself is in very good condition and brought us very swiftly to Buon Ma Thuot.
Buon Ma Thuot is maybe not the most charming town but it is surrounded by the spectacular Dray Sap Waterfalls and coffee (producing) villages. We managed to stay at a hotel for 90,000 VND which was the cheapest so far – awesome!
The Dray Sap Waterfalls are an absolutely must-see if you are passing by. We spend half a day there taking pictures and having late lunch. On the way back though we drove right into a typhoon-like thunder storm which flooded the streets within minutes. At one point it was so strong that we had to find immediate shelter in a garage – the street was completely under at this point and we could do nothing but waiting.
Here was a Youtube video. but because of the DSGVO we can't display 🙁
However, more drama, the water entered our air filter and jammed the carburetor – luckily on half open throttle so we could make it to the next mechanic. Easy fix – half an hour later we were back on the road.
Bigger problems lay looming though as the engine was producing big, blue and smoky clouds – damn – something was going wrong in the engine. The motorbike was burning too much oil, half a litre on 200km, therefore another visit to the mechanic was in order.
However, one reoccurring problem in Vietnam is the language barrier with the mechanics, it can be very difficult to communicate what the problem is, and how/if they can actually fix it, and fix it properly.  Not to forget negotiating the price!
The next day, I woke up, with this nagging engine problem in my head – how can my girlfriend and I drive on like that? I need to find a solution!  Luckily one day before we got a business card from a local english speaking Easy Rider, Tuan, which was the God send. I called him and he brought us to a mechanic half an hour later. Engine out, new cylinder and piston, new carburetor (2nd hand) and off we go. The mechanics were extremely professional guys who really knew what they were doing. The whole fix costed us about 30$ and the motorbike was as good as new. We invited Tuan, our friendly helper out to big dinner and drinks that evening. Thank you Tuan!!
Motorcycling in Vietnam Buon Ma Thuot – Kon Tum – Kham Duc
Buon Ma Thuot to Kon Tum and Kham Duc is one of the many highlights on the Ho Chi Minh Trail. After we left Buon Ma Thuot in the early morning, we had a bit of a difficult road (TL6) to cross.
There are two options you can choose from – you choose either the more eastern road QL14 (AH17) or the more western road TL6 which is the same distance but a small back road. We went for the back road because out of experience, the small roads are usually more interesting and adventurous. This is exactly what happened, we got a bit lost and found ourselves amidst cow herds and dirt tracks. However, after 50km, we returned to the original route, the Ho Chi Minh Trail (QL14).
The road QL14 is in good condition, provides stunning views, is simply beautiful and you really get this feeling that there is nothing in the world better than motor biking  (until your bum gets sore). See the pictures.
Kon Tum is a nice little town with plenty of hotels, cafes and restaurants. There are plenty of options to find rooms for $8 for two people.
Motorbiking in Vietnam Kon Tum to Kham Duc (Phuc Son)
In the evening we decided to leave Kon Tum very early to allow more time for photography, as we knew we are going to be at a very amazing stretch of the Ho Chi Minh Trail (QL14). After a nice Banh Mi (sandwich), we hit the road at about 8am and weren't disappointed – the road was awesome!!! Absolutely fantastic views of stunning mountains overgrown by dense jungle where the road continually winds through.
On the way we had our usual coffee breaks (the best coffee we drank so far) and minor motorcycle problems. We had a puncture to fix on our fellow motor bikers motorbike called Winfried. Easy fix at the next village for $0.25.
We arrived at Kham Duc around 2pm and had plenty of time to find a nice place to stay, this was fairly easy as the town is very small and has only few hotels. However, we needed all our bargaining skills to get a fair price and ended up in a room with its own balcony and a beautiful mountain view for $10 (4 people 1 room, hence $2.50 per person).
After checking in, we went for a little walk around the streets and I felt a little bit like a cowboy walking down the road in a western town. Everybody is looking at you as if you are from a different planet. But as usual, the people in the mountains are very nice, friendly and curious.
It can be sometimes a bit boring in those little towns where nobody speaks any other language than Vietnamese – unfortunately it is almost impossible for us to learn Vietnamese – but we picked up a wicked local game which is called Cau and every local loves to play it, so we played and soon became a group of 10. The locals brought beer and we had a long night drinking and playing with them.
Motorcycling in Vietnam – Kham Duc – Hoi An
Next morning we checked out with a hangover and strapped our bags on to the motorbikes and left after a grandiose Banh Mi Baguette. The Baguettes and Vietnamese coffees in the mornings became a daily routine on our journey. Little upsetting if we didn't get any – funny how the human being gets used to every little habit in no time.
We knew we wouldn't have to go far, the distance between Kham Duc and Hoi An was about 123k and we could relax – so we thought. We were also very fond of the thought to have some days of rest in Hoi An on the beach! On the way we fueled, had a Khong Do (ice tea drink) and nothing particular happened. The countryside was amazing though, The Ho Chi Minh Trail is simply stunning and picturesque. We saw jungle where rivers cut through and beautiful mountains. The street was smooth and easy to drive. We had to leave the QL14 at Thanh My and changed to the QL14b. Well, this wasn't a good choice but the only. We had to go about 60k on a most unpleasant and bumpy road – OMG – that  hurt.
And of course, as usual, a motorcycle problem occurred on the way. Not very big, just a typical dust in the carburetor problem. Luckily, there was a mechanic near by, where we could clean out this little nozzle. We still hadn't had a day without mechanic yet, grrrr.
On the way we had also our first experience with the famous Hoi An style soup. Its technically a Pho with less liquid and more chilly taste. We loved it and we weren't aware of the Hoi An style yet, we just ate it and realised later that it was the regions particular style. Hmmm Lecker!!!
Arriving in Hoi An, beach, small streets, a very famous little town with lots of history. Hoi An is very touristic, hence you really need to bargain everywhere (I mention this because we were on budget). Even at the beach they made us pay some dollars to park the motorbikes and the Banh Mi sandwiches where four times the price. Well we solved that with buying them in town and walking a bit more… walking as a motorbiker 🙂 not our favourite choice haha. All in all this town is awesome, has beautiful beaches and top bars/cafes. We also have to mention that Honda Win had a broken valve, quite a fix for Chris and Irene. Our Honda Bonus drove since the last fix just amazing.
For detailed information on Hoi An please read the wiki page – it's worth it.
Motorcycling in Vietnam – Hoi An – Hue
After having a fantastic time in Hoi An and Da Nang we drove on to Hue. At this point I have to mention the Marble Mountains in Da Nang topped by Pagodas and Caves. It's a must-see and will fill a nice afternoon sightseeing. The Marble Mountains is an incredible cave system on a hill with beautiful pagodas, temples and gardens. Note, the temperature in those caves is more than pleasant. We went also to the near by town Da Nang and explored the peninsula which is a nice afternoon motorbike ride. There you can find hidden beaches and bathing spots. In the area of Hoi An and Da Nang are plenty of sights and things to do, so you can spend easily 3 or more days hanging out. Our favourite breakfast, lunch and dinner place was the famous Café 43 (Tran Cao Van street) in Hoi an. We spend lots of time there. By the way, the beer cost only 3000 Dong, the food is good and the staff embrace you like family. I think personally it's "the" place for backpackers to meet up, have food and get pissed. 😉
Leaving Hoi An in the afternoon, the highlight on our motorbike day trip to Hue was the incredible Hai Van Pass – don't miss it! You can either go over the pass (beautiful) or through the tunnel which all the lorries and buses take. We climbed up from near sea level to 496 meters. On the highest point are little stalls for refreshments, an old bunker and a stunning view. On the other side awaits a nice and never ending down-hill ride on a coastal high road. This road leads you directly to Hue. There wasn't much to the road after the pass, only lorries and blasting heat at this time of the year. The road itself is in good condition and this passage is a fairly easy ride.
Arriving in Hue we searched as usual for the backpacker area and found it very easily. Actually, we were stopping to check the map and immediately a nice chap approached us to lead us there. He offered a place in his brothers hotel but we took a different one in the end. Check-in, shower and a leisurely stroll in town…
Hue, with its main attraction the Citadel, lots of old monuments e.g. Hue Ky Dai, Flag Tower and tombs like the amazing unmissable Khai Dinh Tomb Travelers' Choice™ 2014 Winner, see the pictures. At the Khai Dinh Tomb are twelve stone statues representing bodyguards, huge stone dragons and the tomb itself.
Oh, did I mention that we DIDN'T NEED TO VISIT A MECHANIC THIS DAY???
Motorcycling in Vietnam – Hue – Khe San
After visiting the Lăng Khải Định Tomb we started our journey of the day. The road TL11C brought us quickly north without interruptions. Until we turned to climb up into the mountains. We found that the road we used was under major construction as the picture shows. The trip turned into a motor cross adventure with exciting 10km per hour. In the late afternoon we arrived at Khe San with our motorbikes, magically without damages or defects. We then looked for a hotel and found immediately some places. Khe San is on a beaten Laos to Vietnam route, which makes the search for hotels easy. Unfortunately because of Visa reasons, two of us had no passports but copies. And because of the nearby border they insisted on passports. We then had to go to the local police station and ask them if we could stay in their village. After a lot of Google translate and funny misunderstandings, the local police officer came with us to our hotel to ensure we could stay. A very friendly and unspectacular village, not really a reason to go there. But we say, the journey is the reward.
PART TWO OF THE JOURNEY CLICK HERE