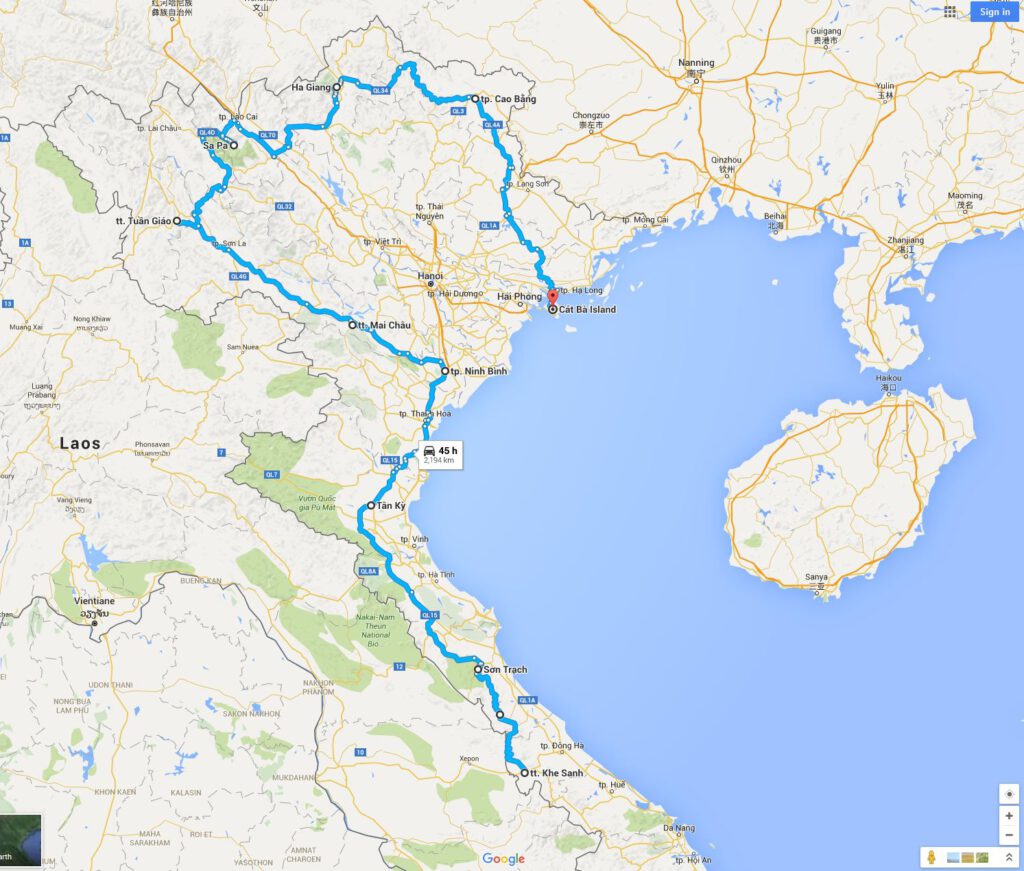 Motorbiking in Vietnam – Part 2
SECOND HALF OF JOURNEY MAP
Motorbiking in Vietnam, Khe San – Son Trach (Phong Nha Caves) best road ever!!!
You will experience motorbiking in Vietnam at its best on this stretch of the famous Ho Chi Minh Trail. It was truly the best motorcycle road so far. Perfect width for small motorcycles, good tarmac, sharp bends, nice ups and downs and a good temperature as we were in the mountains. Also, absolutely no traffic which was kind of scary if we would have had a motorcycle problem. We set our goal to make 220km this day to reach the Phong Nha caves in the evening. The road led us very close to the Laos border, through high mountains and beatiful canyons along turquoise rivers. The vegetation was very green, beginning with mountain forest and became in lower regions dense like jungle. We stopped quite often to enjoy the views and took pictures.
Driving was pure pleasure, here and there a coffee or some food. We hadn't seen a tourist since we have left Hue. On this day we hardly saw anyone, a couple of soldiers painting a border pillar. This was probably the reason why whenever we stopped for coffee that the few locals looked very amazed to see tourists stopping by. About halfway, the mountains started to change into limestone mountains which were even more beautiful. We couldn't believe how crazy beautiful this area was. At this point, Chris and Irene started to hear a strange noise from their motorbike. We drove on and came after the last mountain ridge (800m) closer to Phong Nha National Park. I suddenly realized that their back wheel was a bit tilted to the side. We stopped and ascertained that the bearing in the wheel was completely gone. We had to make the last 20km to get there. The vegetation has turned to proper jungle, 50+ shades of green, bird voices, crickets and humid. We made it to the village on Winfrids (Honda Win) last leg, we even had to push the bike for the last 100 meters. What a long journey today.
At the village we found quickly a room for $8 and the motorbike was fixed. We also met Andy and Charlene again at the mechanic! We met those two quite often on our way, mostly at a mechanic, this time they had big valve problems.
We wanted to explore the area, and after a hot and humid trek through the jungle nearby, we reached 500 steps later, the well tempered Paradise Cave. We recommend visiting this beautiful national park with its caves, rivers and tropical dense moist evergreen forest.
Motorbiking in Vietnam, Son Trach – tan Ky – Hang Tram – Ninh Binh
Motorbikes ready and packed, leaving Phong Nha with a slight hangover. We made good tracks. Within the first 50km we stopped by to have a typical Banh Mi breakfast and enjoyed the mountains view covered by the evergreen forests. The mountains got smaller the further north we got. Our first stop was in Tan Ky at a road hotel. Not really a special place to be, it was quite difficult to get food or talk to anyone. A workers village maybe. Next day between Tan Ky and Hang Tram we met a stranded motorbiker without petrol. This poor guy had a Honda Win and miscalculated his fuel. We gave him a liter and directions to the next petrol station that we just came from. Later in a cafe place we met more travelers on motorbikes coming from north going south. Its a bit of a boring stretch of the journey and on this highway everyone is mainly just passing through.
Later on we came to Hang Tram and stayed the night there. A very small village. We parked our motorbikes and went for food. I'm telling this because we got to know the difference of ga and ca. We asked a guy for food and he seated us at a typical plastic table with tiny plastic stools as usual. There was no menu and we could show of our language skills. We ordered ga (chicken) with rice and vegetables. Instead we got a big grilled Fish (Ca)… hahaha. It was very tasty.
The next morning we went into the super beautiful National park Cuc Phuong and Lyndsey got her second motorbike lesson. The park Cuc Phuong has a fantastic flora and fauna to enjoy. We took a day hike through the jungle, watching hand sized butterflies, snakes, spiders and a 1000 year old tree. In the evening we checked into a hotel in Ninh Binh and went for street stalls which sell Bia Hoi at the river. You can get there beer for $0.25, amazing. We then heard of an area with caves and temples near Ninh Binh which wasn't open for tourism yet, hence hard to find. We took the highway QL1A and found finally Van Long Park. Its a hidden treasure with boat tours through watery caves. After a beautiful day in the limestone regions of Ninh Binh we took us and our motorbikes back to the town and had dinner and Bia Hoi. It was also our last evening with Chris and Irene.
Motorbiking in Vietnam, Ninh Binh – Mai Chau District
This is where we parted ways with our beloved friends that we had spent almost a month with. One last Pho soup together, which was one of the best we had so far. Motorcycles packed, last hug, and off we go. We started at the QL12B which would take us in direction of Mai Chau. We had planned an easy 130km into the mountains today but the road was terrible, bumpy and lots of gravel. We knew the next chapter will be very exciting for motorbiking and will offer stunning landscapes in high mountains and it was truly amazing. Mai Chau offers home stays and is one of the best rated villages to visit. Even though its so close to Hoi An, it feels like a different country. The road there climbs up to 800m altitude and motorbiking becomes fun again – if they would have finished building the road.
As we arrived at the village we did not really know where to stay, we knew that there are stilt houses and this was the place we wanted to be. It took about 1 minute and someone approached us and asked us whether we wanted to stay in a stilt house and the problem was solved. We paid about $5 per night and had one of the most beautiful and quiet houses. It's a bit touristic there, however we only saw Vietnamese tourists during our stay – it is definitely worth a visit. If you go there, stay at least two nights as it is so peaceful and relaxing that it feels like being in a monastery. In the nearby village we discovered our new favorite food. Dau-fu sot cachua, probably spelled wrong but it means Tofu fried with tomato. Another entry in our language book we could use in future in restaurants in case they don't have a menu. We went 95% of the time to non touristic restaurants, which never had any menu. Therefore we made a food book to point at words of food they may have and we really got good at it – we even could pronounce some sentences more or less correct. The people there enjoyed always when we tried to speak Vietnamese.
Motorbiking in Vietnam, Mai Chau – Tuan Giao
The road Ah13 after Mai Chau was in a good condition, straight and big again. We made good tracks and drove deeper into the mountains. We wanted to make 260km and reach the town Tuan Giao – a random stop before Sa Pa. The female locals started wearing high knots in their hair even though they'd wear a helmet on top. It looked like their helmets would hover above their heads. We stopped here and there for coffee, refreshments, some food and some checks on our motorbike. In the evening after a very long motorbike ride, we reached finally Tuan Giao and found the cheapest Hotel in a post office. It was a bit of a random place, not to grim. This little town offers only two or three hotels and the post office was by far the cheapest. There are some nice little restaurants which offer decent Vietnamese food. After dinner we fell in our bed and were dreaming about the Vietnamese Highlands. Sa Pa should be the next stage of our motorbike tour.
Motorbiking in Vietnam, Tuan Ciao – Sa Pa
From Tuan Giao we followed the QL6 10km and decided to take a right along the road QL279. The QL279 is a very windy road through beautiful mountains at an average height of 800m to 1200 m. The road leads through farm villages, evergreen mountains and we saw a limestone arch connecting two mountain tops. Very remote but impressive scenery and sparsely populated. After about 80 km of easy motorbiking we came to the large and very picturesque river Song Da and crossed it at the bridge Cau Pa Uan. We took some pictures and we continued on the road QL279 to reach ultimately QL32 and QL4D which would bring us to Sa Pa. Motorbiking in this area of Vietnam is pure pleasure and adventurous, maybe a bit strenuous.
Unfortunately after another 40km the road changed to a dirt track and forked in multiple directions which was not on our map. After having not very helpful conversations with locals, as those who we encountered were unable to read our map and our Vietnamese was minimal, we decided to take the way we believed would be most popular amongst the local motor bikers. This dirt track went on for about 5km and changed into a tarred road again (yay), which lead straight into a lake. We realised later that they had built a dam and rerouted the whole road around the new lake which wasn't build yet. But luckily a boat with two young lads emerged and took us over to the other side of the lake.
After the lake crossing we had to bargain with the two young guys. Whilst paying, they saw our money in our wallet and they suddenly wanted more as we initially agreed on, but this was sorted without too much bother. The road QL279 continued after the lake as normal and brought us within 20minutes finally to the desired QL32. What a treat after the long motorbike ride on the previous difficult road. The Ql 32 was wide with a smooth surface and would lead us towards and alongside of the well known Phan Xi Pan Pass (Fansipan). At this point the mountains reach up to 3000m and the road lead us into the high mountains. The scenery and road around the Phang Si Pan Pass is extraordinarily beautiful and we had to stop numerous times to take pictures. Finally after this long motorbiking journey we arrived in Sa Pa.
Sa Pa is a high mountain town overlooking a plunging deep valley edged by towering mountains. Sa Pa offers amazing hiking trails into the national park, where mountain tribe experiences can be booked and many other activities such as trekking, climbing Phang Si Pan, visiting waterfalls can be added to your list of things to do. After heavy bargaining for our hotel room, we had a very pleasant stay for a few days in a beautiful room, which we really needed. Again we met Charlene and Andy, they told us that they have taken the road QL6 (the long way) near the Laos and Chinese border to get to Sa Pa. Only mud tracks for most of the time, on the edge of despair. However they made it safe and sound and I always say motorbiking in Vietnam is an experience you'll never forget.
Motorbiking in Vietnam, Sa Pa – Ha Giang
We had an awesome three days in Sa Pa, hiking and relaxing, hardly motor biking. We met Charlene and Andy for dinner and had some wine on their mountain-view terrace. Time passed quickly.
However, the journey had go on and we continued our motorbike trip through to the north-eastern mountain region of Vietnam. We got up early, had a Cafe sua da and bhan mi baguette for breakfast and headed into the valley of Lau Cai via the road QL4D. The road winded from an altitude of 1600m down to 150m, through endless hairpin bends. The road was mainly surrounded with steep hills, rice field terraces, with some forest here and there. The road to  Lau Cai was an easy descent and took us less than an hour.
During our coffee break in  Lau Cai we chatted with some very friendly locals about where we came from and where we would go.  In non-touristic areas, people are generally very friendly and  interested in tourists. From Lau Cai we headed south and we decided to take the QL4 road, parallel along the main highway;  Hanoi – China. It was definitely the more interesting way. A short while later we were following an ankle deep mud road which joined with rail tracks – literally the road became one with the rail tracks. We were often questioning, will a train come or not?! At least the terrain was relatively flat and after 80km we changed roads and headed east into the province of Ha Giang. To our surprise, we joined the road QL279 for about 80km again. But this time there was no lake in our way. We and our mud splashed motorbike smoothly drove on and made good tracks until a junction where the "highway" QL2 forks off. Again we found ourselves on a dirt track and not on a highway. We read that Ha Giang province offers best motorcycle roads which we obviously didn't get to drive on yet. Arriving after a strenuous motorbike day, we got a good value hotel and rested for our next day's motorbike ride.
Ha Giang is a very interesting province with 20 different ethnic groups, stunning mountains and natural sights. It's worth to visit for nature and photography lovers.
Motorbiking in Vietnam, Ha Giang – tp. Cao Bang
After a good rest we took the very diverse and rather small road QL34 towards Cao Bang. The  beautiful and picturesque landscape consists out of a mixture of sedimentary rock like limestone and lower indosinias rock, topped with dense flora. I found a detailed map of the terrain in Vietnam for any geographically interested motor bikers. We passed through farm villages, drove through valleys and along rivers. A very scenic route and very satisfying to drive along with a motorbike. After numerous stops for photos and refreshments we stopped in Bau Lac at the Song Gam Hotel for one night. The hotel  provided us with a nice clean room overlooking the river Gam. The small, windy road QL34 brought us all the way to Cau Bang without trouble. The whole area between Ha Giang and Cao Bang is simply beautiful, very memorable and a must see if you have enough time to spend on your motorbike tour in Vietnam. We arrived at early afternoon in Cao Bang and had arranged to meet Chris and Irene again for a couple of days. Cao Bang is a small town and it didn't take long to find our friends. They chose to drive anticlockwise around the northern highlands of Vietnam and cross somewhere over to Laos, hopefully with their motorbike. We heard that it isn't always possible to take the motorbike over the border. We found a very nice hotel for all four of us, with a leaking air-condition, which was quickly solved with a new room. In the evening we discovered a little bar, I believe it was called Din Thi Yen, in the central area of Cao Bang, who serve self brewed Bia Hoi for a ridiculous low price. There we met a large group of students who invited us to their club later at the night. What an experience.
At this point, our motorbike the Wolf Pack had to get the cam chain changed and we spent the next day at the motorbike shop with a slight hangover. It all began quite simple, valve lid off, opening the cam chain and pull the new cam chain through by connecting it to the old one. That was the plan but no, our mechanic dropped the chain in the engine, hence we had to take the engine side lid and the flywheel etc off.  It was at that point that the mechanic decided to leave for lunch. Luckily I'm a mechanic myself and I asked them to lend me tools, which they did happily with a grin on their faces. After three hours of work I fixed everything and the journey could continue. That night, we walked down the main road to get food and were invited to sit down and try some grilled fish by a few local lads sitting in the street. It was delicious and the guys were very excited to let us taste the different kinds of food and drinks they had. We got a whole dinner and drinks for free. All in all, Cao Bang was a very positive experience for us.
Here was a Youtube video. but because of the DSGVO we can't display 🙁
Motorbiking in Vietnam, Cao Bang Lang Song – Cat Ba
After another final goodbye to our mates, we started our motorbike tour down to Cat Ba Island. The road Ql4A would take us, having a one night stop in Lang Son. The scenery hasn't changed much, limestone mountains interlaced with rice fields. A sheer endless ocean of hills and farmland. The weather was very humid and foggy, the roads damp, partly muddy. From time to time we came across sections of road works with ankle deep red mud. In a village somewhere south of Lang Song, we stopped at a tiny shop and had a cold Khong Do. It turned out that the shop owner was an English teacher and we told her all about our motor biking story in Vietnam. Both us and our motorbike were completely covered in red sediment mud and the nice lady gave us a hose to give our bike a wash. We continued on the road QL4B down south and turned right onto TL326. At this stage we were really excited about Cat Ba and we just rushed to the ferry port at the island Tuan Chau (Dao Tuan Chau). We knew the last ferry would cross at 3pm, that's why we didn't really explore the very popular coastal area of Ha Long.
On the ferry we chatted with a lot of Vietnamese people and learned that Cat Ba is the number one Vietnamese holiday island in the north. The boat took about 40 minutes to cross to Cat Ba pier. It's basically a very cheap boat tour through the typical limestone mountains which protrude out of the water. As we landed at the north pier, we had to cross the island (about 20km) to the furthest south village (KHU ĐÔ THỊ CÁI GIÁ) and check for hotels. It took quite a while to find a hotel which was a good price and with vacancies. This island offers everything tourists can wish for, hiking, swimming, beaches, boat tours, scuba diving, good food, bars etc. We did some hikes and boat tours. We also gave our beloved motorbike a major scrub down and prepared the advert for selling our bike on Craigslist before we drove to Hanoi, our last and final stop.
Motorbiking in Vietnam, Final – Cat Ba – Hanoi
Last ride on the bike! After a couple of wonderful and relaxing days at Cat Ba we started our way to Hanoi via the south west route through fisherman villages. It took two very cheap and short ferry crossings to reach the main land. From there we just needed to go north for about 130km following signs Hanoi. The traffic became more and more dense as we came closer to Hanoi and we drove directly into the typical big city traffic mess. However, after a more than 6 weeks on the motorbike, we were in the Vietnamese flow. We got a nice hotel near the backpackers area and dived into the city life. Food, beer, evenings out, new friends and so on.
Now was the time to resell our motorbike. We listed it on Craigslist and also wrote a cardboard sign "For Sale, With Equipment". Standing in front of the Hanoi Backpackers Hostel, it just took a couple of hours and we had a buyer. A very nice chap bought the Wolf Pack for $300 and we were now for the next 5 days on foot!!! We couldn't believe it, our friend was gone. You really grow close with your motorbike after such an intense time together. We thought briefly to take it apart and send our Honda home in boxes :). However, such a bike is suitably made for the slow pace in Vietnam and wouldn't perform well on main European roads. With heavy hearts we gave it away and we hope it's still somewhere going up and down Motorbiking in Vietnam.
Here was a Youtube video. but because of the DSGVO we can't display 🙁
Special Thanks to: